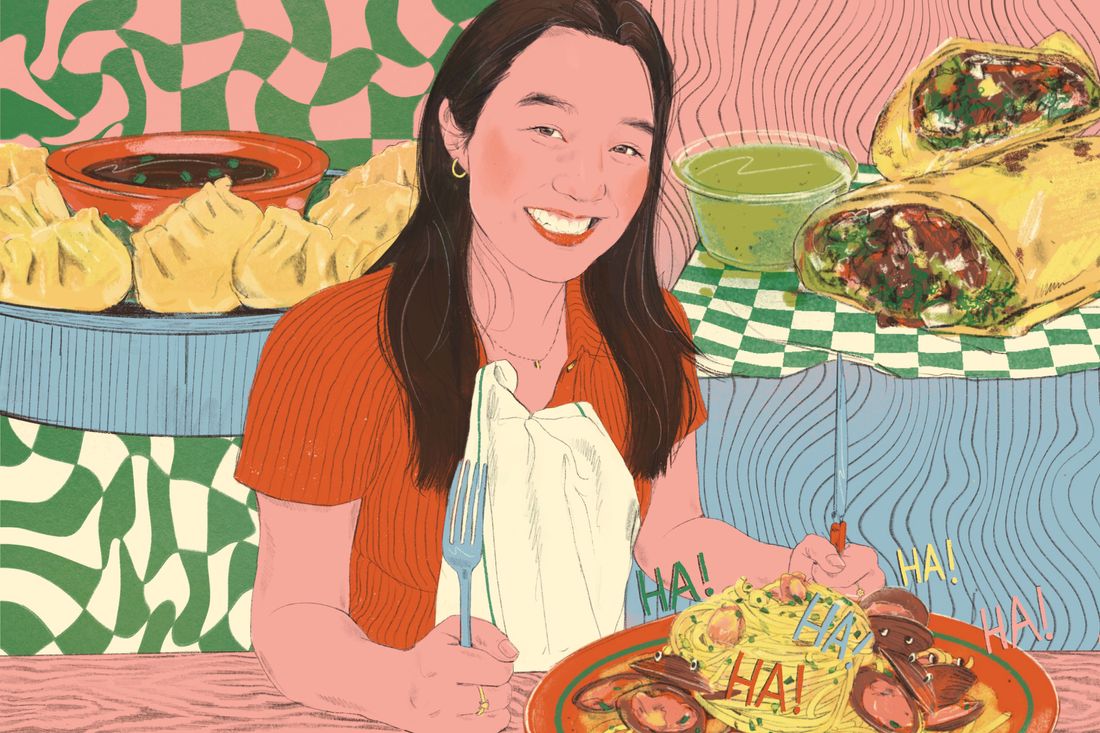 Chee recently moved back to New York City after living in South Korea.
Illustration: Lindsay Mound
In the summer of 2020, Karen Chee's grandmother got sick, so the Late Night With Seth Meyers writer packed a bag and flew to South Korea, assuming she'd stay for a month. One thing led to another, and "I just sort of kept on staying," she says. "I realized at one point, Oh, I've just completely moved here." But she missed standup, and ultimately, New York City called her back. "I'm genuinely really stoked to see my friends again and to be doing more comedy," says Chee, who is also writing for the second season of Pachinko and working on a collection of comic short stories. Having returned, she cannot ignore the fact that the city has undergone some unsettling changes in her absence: "It really feels like all the rats took time during lockdown for self-care, and now they're being really cocky out in the streets," she marvels. "They're really bold. They're like white-man levels of confidence."
Thursday, September 8
I woke up around 7 and remembered it was "Grub Street Diet" week. I lay in bed thinking about how I could say whatever I wanted and it would get printed as fact for all eternity. Obviously, taking advantage of this would be a terrible violation of trust, and I would never. So anyway, I hauled my toned six-foot-two bod (complete with gorgeous ass) out of bed, kissed my boyfriend Chris Pine on the mouth, and went to make coffee.
I love having an egg first thing in the morning. Sometimes I go to bed already excited about my Morning Egg™. Today, I medium-boiled it. I know you're supposed to time how long the egg is boiling so that you can soft/medium/hard-boil, but I like to live on the edge. I toss it in the water and wait for a bit, and when my gut feels it is time, I panic and desperately fish it out. Then peeling the shell is like unwrapping a gift — I really have no idea what I'm going to get! That is the magic of Morning Egg™.
These days I wake up early and FaceTime my family while eating breakfast. My parents and grandparents are in South Korea, where I lived for the past two years. I love them so much, and being away from family is really hard! This weekend is Chuseok, which is a Korean mid-autumn harvest festival — kind of like Thanksgiving minus the colonialism? To celebrate the holiday, I had a bouquet of flowers sent to my grandparents' house, which had apparently just arrived. It came with a little card, so for the entire call, my grandpa wore the card on his head like a little hat. Hee-hee!
After working for a few hours, I headed out to lunch at a place called Kopitiam, a Malaysian restaurant on the Lower East Side. I was meeting my friend Mary for the first time. We'd been friendly internet mutuals for a while but never physically in the same place at the same time. A new friend!
On the way to Kopitiam, I swung by H Mart and picked up a honeycrisp apple for Mary, whom I've seen talk about apples a lot on Instagram. (To be clear, she is also an incredible novelist.) Bringing an apple to lunch is like the daytime version of carrying a bottle of wine to a party. I was so full of hope and excitement!
Living within two minutes' walking distance of an H Mart is great because I can go for literally one item. It's very much a big grocery-shopping store, not a bodega vibe, so getting one thing feels luxurious somehow. Last week, I sprinted there because I found myself craving shrimp chips while working. I was there and back home again in seven minutes.
At Kopitiam, Mary ordered for both of us. We had kaya-butter toast, belachan wings, tok tok mee, sambal sautéed water spinach, and a kuih talam for dessert. I also ordered this soft drink called Calamansi-ade that came in a bag that had handles so I could drink while walking! Smart smart smart.
It was a great lunch. I will boldly say I think Mary and I became fast friends. At one point she said, "My husband is a Virgo," but I heard, "My husband is a virgin," and I thought, Oh my God, what is he waiting for? Death? I brought the leftovers home. I love having leftovers in my fridge. A snack-size portion of a heavy meal? How decadent!
Around 3:45, I stopped working and made my way to Columbus Circle. Going through midtown is absolute hell, but I always forget how lovely Central Park is. So much of the park's appeal is that it is not like the rest of Manhattan. I think that's so funny — the best thing about Manhattan is a thing that is adamantly not like Manhattan. I met up with my friend Hannah, who is somehow a lawyer, a comedy producer, a writer, and a brilliant cook all at once. It's actually kind of rude of her to be so talented, and now that I think about it, I hate her. Anyway! We got gelato at a place called Venchi. I got a "regular single" (also my dating bio) cup of pistachio and hazelnut milk chocolate. Hannah got tiramisu and hazelnut.
We ate our gelatos while sitting atop a big rock in Central Park, then went roller skating at Wollman Rink. It felt like a very 1950s date. We had such a good time! Miraculously, neither of us fell! Afterward, I got this drink called a "disco slushie," which I regretted immediately. It was apparently citrus flavored, but truthfully, I could not tell what it was supposed to be. It was a disconcertingly bright yellow. At least I can confidently say I peed it out of my system later.
I walked home like 40 blocks and my legs gave out as soon as I entered my apartment. I ate Kopitiam leftovers while lying down on the couch.
Friday, September 9
I woke up around 7 and drank coffee with milk and had my Morning Egg™. Sometimes I like to chant "Mor! Ning! Egg!" to myself while it boils. I have fun.
I called my grandparents while eating my egg and showed them how I can peel it in one long strand. My grandma replied that I was the prettiest girl in the world. I'm not sure how the two topics link, but I'm not complaining!
I then went to an 8 a.m. cardio class. My gym is about 12 minutes from my house, so sometimes I get tired just walking there. But I'm really trying to grow stronger and have been working out a lot. Mostly it's because I am scared of bad men, and if I were stronger, I'd be less anxious about going outside after 6 p.m.
For lunch, I met up with some of the other women writers at Late Night With Seth Meyers: Amber, Jenny, and Ally. It was a gals hang! Our other co-worker, Dina, couldn't make it, so she sent us a cute picture of her dog, who is named Chicken. We went to La Lanterna di Vittorio in the West Village, where I got a lasagna flight — four little lasagnas in cups — and a cocktail called Eve's Tea. A couple of them were hungover and didn't get a drink, but out of respect, I won't say who. (Amber and Jenny!)
I had a stand-up gig that night, which means I didn't eat dinner because my stomach gets all tingly and weird and forgets how to digest before shows. I restarted stand-up only just after moving back to town, so I'm much more jittery about performing than I used to be. To overcome this, I've been trying to go up every night to get over it more quickly, but so far, it just means I'm anxious almost every day. I went to Brooklyn to do a set in Gowanus, then headed back to Manhattan.
At 9, I met up with my friend Annie, who is so smart and supportive and talented at so many things, and whenever I talk with her it feels like one of those great nights in college when you're deep into a discussion about some random novel and suddenly it's 2 a.m.
We went to this great bar-restaurant called Double Chicken Please in the Lower East Side. I love DCP because it feels like a secret club — physically, it's compact — and it's always full of cool Asian Americans, a demographic I aspire to be part of. We started in the Front Room, where we ordered popcorn chicken, Koji cucumbers, and cocktails: No. 4, a lemongrass shochu with plum and green tea, for me and No. 13 for Annie, which had cold brew in it because Annie is very brave. We hung out there for an hour until a table became available in the coveted Back Room, where we got a dessert made of macaron and fudge and mochi called Le Big Mac (it looks like a Big Mac!) and another cocktail each. Annie got one called Beet Salad and I got the Japanese Soba Noodle. I'm obsessed with this drink. It's so good. It actually tastes like soba noodles but somehow even lighter and airier.
Saturday, September 10
I had my Morning Egg™. This time, I called my grandparents while it boiled and ended up leaving it in too long — we were gossiping about my cousin's new fiancé (whom we all like!) and I lost track of time. By the time I remembered my egg, it was fully hard boiled!
I was out of milk but didn't have time to run to the store before going to my morning kickboxing class, so I winced while drinking some black coffee before heading out the door.
At noon, I recorded a guest spot for this comedy podcast called Asian Not Asian, hosted by Mic Nguyen and Jenny Arimoto. They have a sweet little studio in Canal Street Market, near Chinatown. When I showed up, Mic and Jenny had a surprise spam musubi from Kabisera ready for me (!!). I've never had a podcast host preorder me food! I was very touched.
I also got an iced latte from the café in the market. It was actually a regular hot latte, but then I asked for a couple ice cubes to cool it down —I like all my drinks to be somewhat room temperature. Whenever I do this, I can feel myself turning into my mother, a process I wish would speed up! Sometimes I think about paying someone to Photoshop an Animorphs book cover where it's me turning into my mom. I eagerly await my final form.
After recording, we all got bubble tea from Lazy Sundaes. I got a jasmine green tea with boba. Hell yeah.
All my college roommates have somehow moved to New York during the pandemic, and I was meeting up with three of them for dinner. Knowing this, I tried to hold out so I could fully enjoy our food at Wild. Somewhere around 4:30, I got so hungry that I panicked and made dumplings.
At Wild, I split an order of mozz sticks and got an Aperol spritz, which came in a comically large glass. I told them I was in for an early night, but I was really glad to be there. After dinner they were like, "Wanna go for a drink?" And I said, "Okay, I'll walk with you guys there, but then I'm going home. It's an early night for me." They nodded. We walked to an underground bar called LB, and I thought, Well, maybe I'll go inside? We sat in this very dark, crowded denlike area. Maybe I'll just get one drink? Anyway, a gin and tonic and literally three rounds of tequila shots later, I went home at a very respectable 1:15 a.m.
I chugged a water bottle while standing over the kitchen sink and swallowed a packet of Sangkwaehwan, which I bought in Korea. Sangkwaehwan is a handful of little pills that, as someone once explained to me, has the power of many Gatorades. If you consume it before a heavy night of drinking, it can stave off hangovers. As all the alcohol was already in my system; this was more of a desperate "Forgive me, Father, for I have sinned" type thing, but I figured I might as well try.
Sunday, September 11
I woke up assuming I'd have a terrible hangover and very gingerly moved my body until I realized … I felt totally fine. Shocked, I tried out a jumping jack. I felt normal! Spurred by this revelation, I drank a black coffee and headed off to a morning boxing class like a friggin' legend.
As per usual, I got my ass whooped and the legend vibes dissipated, but I still felt a bit smug. Being proud your body can handle a lot of alcohol is a very Korean thing. I always hesitate to ascribe certain tendencies or personality traits to a culture because that can be reductive, but I can confidently say this is truly Korean. When I was in Seoul, my friends and family were regularly proud of how much hard liquor I could handle. I should probably put this on my résumé.
After class, I got a kale Caesar salad from Sweetgreen on the way home. It was fine!
Extremely randomly, I got invited to attend the Carolina Herrera show in New York Fashion Week this year with Elle magazine! I am not very fashionable (I recently got a pair of pants because I thought they made me look like a Pokémon trainer) and was equal parts relieved and thrilled when they said they would outfit me. I did not know that "outfit" could be a verb! So I got an iced latte on the way to the Carolina Herrera offices and pretended this was all very normal.
Later that evening, I had a show at Union Hall in Brooklyn. My friend Josh Gondelman and I were hosting a show meant for comics to try out newer material. It was a blast! We sold out the venue, and all the comics crushed. The only downside was it was very hot and sweaty in there. I drank like four glasses of water and peed for what felt like an hour.
After the show, my friend asked if I wanted to grab food, so we went to Mee Thai just a couple of blocks away on Fifth Avenue. Upon sitting down, I realized I wasn't that hungry, so I had some fresh rolls. My best bud Sage used to live a block away, and I mostly felt nostalgic for the frequent Fifth Avenue hangs pre-pandemic.
Monday, September 12
My body naturally woke up at 5:50 for some reason. I rolled out of bed and, as if on autopilot, boiled an egg, ate it, and went back to sleep. Then I woke up for real at 7, and I couldn't tell if the whole egg thing was a dream. I only realized it had actually happened when I saw eggshell peelings in the trash.
I drank coffee and chugged a packet of raspberry Emergen-C because I didn't want to get sick. When I have too much stuff going on, my body likes to say "no thx" and shut down. Not today, Satan!
I was headed to the Carolina Herrera show at the Plaza Hotel, and I was too excited and nervous to really stomach anything. I just ate a Chips Ahoy! chewy chocolate chip cookie, which has somehow become my go-to when I'm too antsy to eat real food. I think I impulse-bought a big pack once and now it feels like an old friend.
The fashion show was truly stunning. Everyone there was gorgeous and elegant and I felt like a little shrimp. I even saw Anna Wintour!
I came home, made myself a giant bowl of hot noodles, and ate it in my underwear on the couch. I got some writing done but not really. Then I had to head back out again to record a podcast for NPR at their offices in Bryant Park. It was for a comedy show that's part of Wait Wait … Don't Tell Me! called Everyone and Their Mom. I had a good time! I drank cold water out of a little NPR glass. The brand is strong.
I had a show, this one in Park Slope at a great theater called Littlefield. It's a weekly show called Butterboy, which is hosted by some of my pals who are just the funniest people.
When I got home, I was exhausted, but I had to write jokes for Late Night. We write a round of jokes in the evening for the next day's show. To cheer myself on, I had some chocolate chip cookies. I wrote some jokes.
Around 2:15 a.m., I crawled into bed, where my sweet boyf Christopher Pine was quietly snoozing. I closed my eyes, already looking forward to my Morning Egg™. Maybe I'll scramble it, I thought to myself. I'm such a wild girl.