As POPSUGAR editors, we independently select and write about stuff we love and think you'll like too. If you buy a product we have recommended, we may receive affiliate commission, which in turn supports our work.
The skin-care brand Byoma has earned itself a reputation in the sustainable beauty sphere since its launch in January this year. Now, the brand is plugging a hole in the market by providing accessible, affordable, and sustainable skin care that is also entirely refillable.
The entire Byoma hero line (composed of cleanser, face mist, gel cream, rich cream, and three different serums) sells a refillable version of each product. The refill bottles come without the droppers, pumps, and misters. The idea being that you transfer these technical parts, which are the only elements of Byoma's packaging that aren't fully recyclable, to your refill bottle to use them over and over again. Then, simply recycle the old bottle. This step may sound simple in theory, but it's rarely done on such a large scale, making Byoma one of the few entirely refillable skin-care range at mass on the market. (The brand is available at Target.) Powered by actives and intended to boost the skin's barrier, the actual products aren't too shabby, either.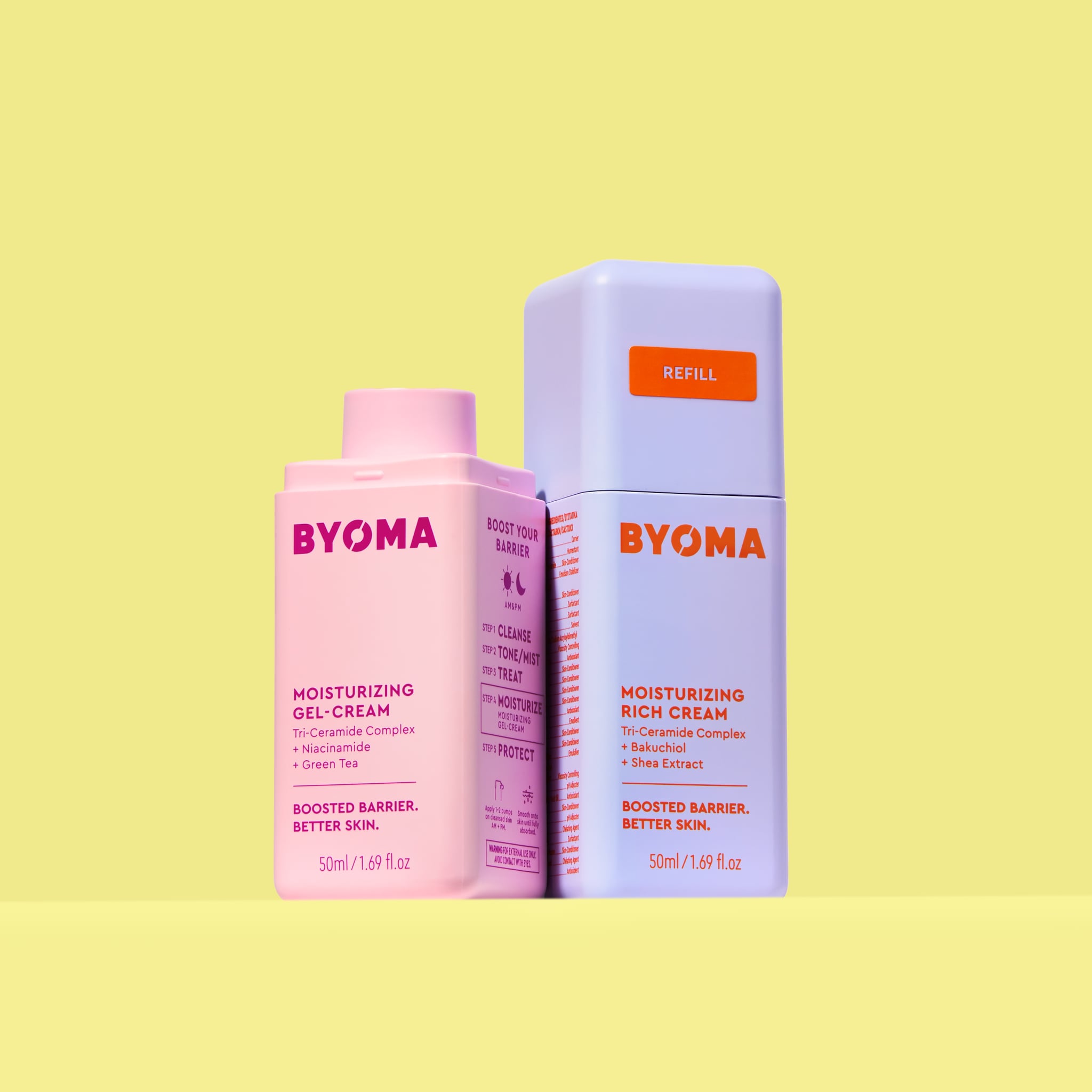 Image Source: Byoma
We've seen refillable beauty time and time again. We'd all love to think we'd go the extra mile to do our part for the planet, but not every sustainable brand offering is created equal. Many beauty refills come with a luxury price point or only some of their products are refillable, not to mention hard to get hold of. Some refillable pouches are even nonrecyclable, defeating the whole point. Byoma's refills, on the other hand, are all readily available to purchase with the possibility of next-day delivery or eco delivery (where one tree is planted for each order placed). On top of that, the most expensive product in the line is $15 — and the refills are cheaper by a dollar or so than the original products.
Alongside making the packaging refillable, the brand's founder Marc Elrick has eliminated excess packaging like shrink wrap and cardboard boxes. Elrick has also ensured that all packaging is made from 100 percent recyclable mono material plastic packaging.
Ready to ride the refillable wave? Here's everything you need to know about Byoma's new refillable hero products. Please note: you'll need to buy the original product first and the refill as a top-up when you're finished.