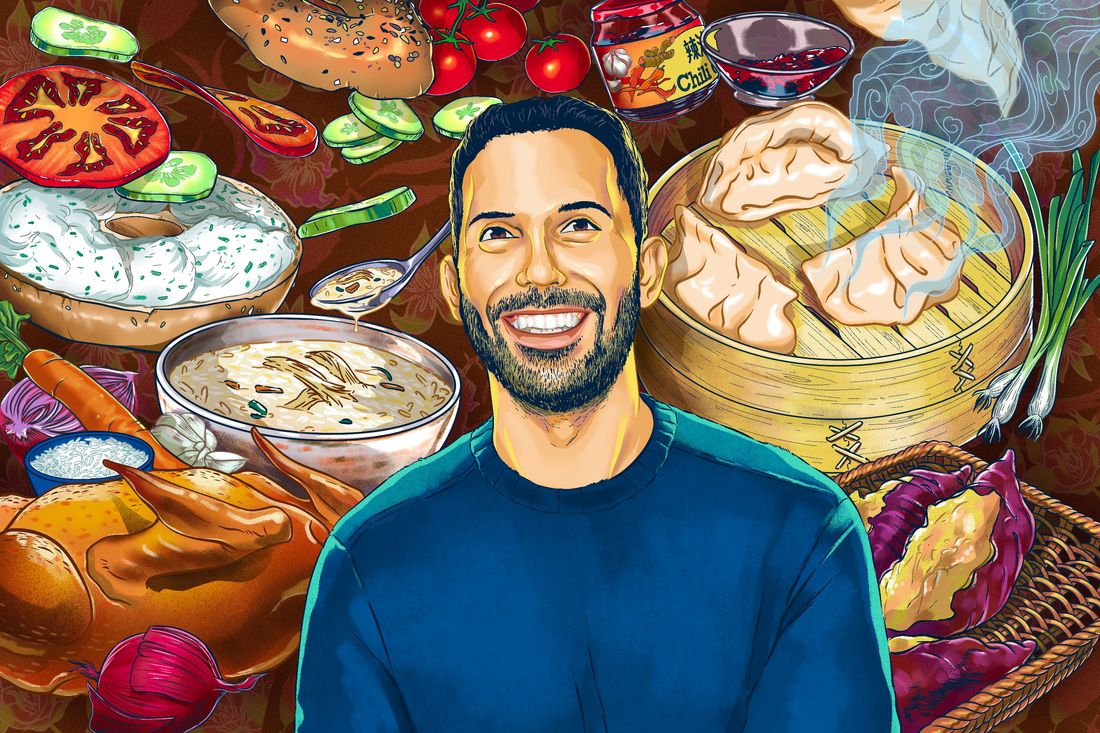 Baraghani, who takes his Thanksgivings seriously.
Illustration: Adam Mazur
"This particular write-up is going to be very interesting," says Andy Baraghani. "There's a lot of good food happening — but by Sunday, it just ends up going down." Since releasing his first cookbook — The Cook You Want to Be — earlier this year, he's been working and traveling consistently, and he was looking forward to celebrating both Thanksgiving and his birthday this week with a little downtime. As you might expect, Baraghani goes all out with his turkey feast, but an unexpected development meant the birthday celebration needed to be delayed a bit.
Wednesday, November 23
I wake up around 7:15, a little bit too early. I'm out of the city and celebrating the holiday on Long Island, in Brookhaven, with my partner, Keith; his mom; and our friend John, who shares the house with us. This Thanksgiving marks one of the few breaks that I've had since going on a book tour last May. It has been nonstop go, go, go, go for me and I'm really looking forward to some calm, eating my face off, and binge-watching as many movies as possible.
I make my way downstairs to grind some beans for coffee. I'm not fancy with my coffee. I like it strong, and very hot, with a splash of something — dairy or dairy-free, it doesn't matter. Never any sweetener. I take my first sip. I enjoy that, and then I take my second. I toss back my daily finasteride. Hair loss is real. Not sure if the finasteride is helping, exactly, but I'm sticking with it for now.
I rarely have an appetite in the morning, but I know it will be a heavy prep day. As I'm sipping my coffee, I stare at a Hachiya persimmon on the counter and wonder if it is ripe yet. I've been waiting patiently for over a week. I'm starting to become resentful. With a Fuyu persimmon, you can eat it while it's firm. With a Hachiya, you have to wait until its flesh becomes almost jelly-like. I decide to take my chances and release it from its slippery skin. I add a large spoonful of full-fat yogurt, a bit too much honey, a handful of raw pistachios, and some flaky salt. The persimmon could have gone another day or two, but I am smiling because my breakfast is so damn delicious. After 16 years of working in food, a bowl of yogurt and fruit is what gets me smiling. Maybe I'm the one who's going soft.
I'm in a house where I am the only cook, so I had decided to get some Thanksgiving prep out of the way. At maybe nine o'clock, I go on Instagram and post a video of myself saying that I haven't started cooking yet. My mom completely reads me and responds to my video: "You have all day today and tomorrow, and you're only cooking for four people. What about me, who is cooking for 25?"
Reminded where I get my sass, I get off Instagram and start cooking. First, I get my stock going. It's a turkeyish stock. I add a lot of chicken wings to mine. Here's my tip, kind of my golden method for stock: I take whatever turkey parts are left over — I usually have the backbone and the neck, because I break down my turkey — and then add another four pounds of chicken wings. I roast that at 425 degrees until it's deeply golden brown. I'm going for a stock that's richer and deeper than if you were adding raw bones to water. I add those bones to some wonky-cut onions with the peel on (which will help given that golden color), a few halved heads of garlic, a handful of good-smelling herbs, a celery stalk, and, depending on my mood, a carrot. Sometimes a stock doesn't need a carrot's sweetness.
I let that gently simmer for three hours, then strain and chill. Once you chill it, your stock will be jiggly. This is a good thing; you want this to happen. It means all the flavor and the collagen has been extracted. Your stock is gold.
My partner reminds me every year that I never make enough food for leftovers, which is not true. I make enough food for eight people and somehow there aren't enough leftovers. But I'm going hard-core this year. For stuffing, I tear up three very large miche loaves from She Wolf Bakery, which is likely my favorite bread from the city. I'm making a big batch.
I make the cranberry sauce in a hurry because I'm one of two people who actually like the stuff. I promised I'd serve it from a can this year — a very good thing — but I couldn't help myself and decided to make it from scratch. I bought some quince and added them this year, along with a few orange peels, crushed cardamom, honey, half a vanilla bean, and plenty of water. I'm trying to mimic the quince jam that my father made each fall back in California.
I skip lunch because I had some flimsy celery stalks, slices of cheddar, and a few puffs from a pack of American Spirits I forgot I'd purchased a while back. Smoking is a terrible thing, and I have gone back and forth with it for years. When I'm stressed, or want to indulge, I crave a cigarette.
I finish the rest of the prep and head to HOG Farm, which is very close to us in Brookhaven. They do an incredible job and when they close up for the winter, it makes me almost sad to just be in Brookhaven without them. I grab a few last-minute ingredients, extra herbs, some greens for the salad, and extra garlic. While I'm out, I also place an order for Thai food for dinner. I am a firm believer that if you are cooking for Thanksgiving, you'd better be eating takeout the night before.
When I get home, we have pad see ew, basil tofu, spicy eggplant, and som tam while we watch Mildred Pierce, which is something that Keith has never seen. I'm a sucker for old Hollywood stuff, although I'm a Bette Davis type of gay, not a Joan Crawford type, but she's good in this movie.
Thursday, November 24
Breakfast is a bit more substantial so people will keep out of the kitchen for most of the day. It's a Swiss chard scramble with probably too much garlic and some thick slices of Parmesan. I want those big, salty bursts of cheese.
John is helping me peel potatoes because mashed potatoes are his favorite, but then we get distracted because he makes a big batch of Bloody Marys. He makes them exactly the way that I like: lots of good horseradish and pepper. I suddenly have a craving for tortilla chips, my favorite snack. The Have'A Corn Chips are the best, and so fucking deadly.
I finish off a bag and then go into full-throttle mode. I have my time, which is 4:30. That is, for me, the time that Thanksgiving meals should be served. It is the time my mother served Thanksgiving, and I have adopted it. It just feels right. The sun is still out, or mostly out, and you're definitely hungry but not yet hangry.
This is when I go to a place where I'm back on the line: I have the oven going, I'm using all four burners. I reduce the stock for the gravy. I'm glazing turkey with soy and sherry vinegar. The stuffing is crisping up and my pastry dough has been rolled out for dessert. I've done everything that I can from scratch, hopefully to disguise the fact that I'm sometimes a cigarette-smoking, tortilla-chip-eating monster.
We're having a turkey that I developed during my Bon Appétit days with my former colleague, Brad Leone. It's called Expertly Spiced and Glazed Roast Turkey. I hate, hate the name of this recipe. I hated it when we named it and even though I generally push back a lot, on this one I did not. That being said, I genuinely love this recipe. I've developed so many turkey recipes, and this one, I really stand by it. It's been out for a few years now, and I make it every year.
So there's turkey and caramelized sweet potatoes with hot-honey harissa, which is a recipe from my cookbook. I tried to think of a sweet potato recipe that wasn't this, but I always come back to it. I use the Japanese variety of sweet potatoes; they're so tiny and fluffy and cute and they have less water in them than other varieties.
The salad is a big pile of greens with garlicky vinaigrette inspired by Evan Kleiman of Good Food. I co-hosted the Thanksgiving episode with her this year and she spoke about this vinaigrette that she makes every year and I knew I needed to incorporate it into my salad this year. Salad is a nonnegotiable thing for me. Your mouth is begging for some fresh greens.
The labneh-creamed potatoes with crispy garlic is another recipe that I developed a few years ago. These were a bit of a game-changer for me. I love potatoes, but I don't love mashed potatoes. Here, they're lumpy, something I enjoy. And this recipe has three kinds of dairy — labneh, cream, and butter — which I don't think is overkill. Then it's topped with crispy garlic, brown butter, and dill. Definitely a keeper.
Cornichon and onion rolls. A little bit of an experiment that went very well. They're more biscuit than roll, I should admit. Pretty damn good, but not a substitute for stuffing because I do not fuck around with stuffing. I'm open to all varieties, but if I'm making it, I'm very, very clear about what I want: stale bread, not even cubed. because I want big, crackly pieces. Good stock, some eggs, cooked-down onions, lots of celery and garlic. Rosemary, thyme, and so much pepper. Butter the baking dish so that the bottom of the stuffing gets a nice, salty crust.
We drown everything with tart celery sodas I made and some Vivanterre orange wine.
For dessert we have pumpkin pie and salty chocolate chess pie from Petee's in Brooklyn, and I made an apple-tahini galette from my book. We bought ice cream but we don't even eat it, because that's overkill.
Friday, November 25
I wake up to Keith not feeling too well. It had been a few days where he wasn't feeling so hot, but now I can see it in his face. He's falling.
I make him the tea that he requests whenever he's sick. He thinks it is some specialty, but it really isn't. It's just chamomile tea with honey and a handful of mint. I love him so much. I make the tea and give it to him and then try to stay away.
I have a big bottle of wellness pills that are packed with a bunch of different vitamins. You're supposed to take six a day, but if you feel like you're getting a cold, you take 18, which seems so insane. The idea of taking 18 pills in one day is just crazy. I take them and they end up giving me weird, garlicky burps.
I check on Keith here and there and I end up not even thinking about breakfast. Around 11, I decide to make some sandwiches. I take my turkey sandwiches very seriously. I use herby mayonnaise, some leftover bread, some slices of turkey breast, lots of iceberg, and some Swiss cheese. Some people add avocado. Nothing against avocados, but I don't need a bland, soft thing sitting on my sandwich. I'm craving some jalapeño chips, but we don't have any, probably because I ate them all the week before.
I've developed a bad habit, and that is Diet Coke. I never drank it, but this past summer I just kept ordering Diet Coke with a lemon wedge. Just a little pick-me-up. I don't have one daily, but with the turkey sandwich, it felt needed.
We end up lounging and watching movies. Keith is still in his room. I keep giving him tea and leftover broth.
At night I decide to make a big soup, which I think is actually the best way to use up Thanksgiving leftovers. A sandwich is such a small thing, amazing but not as satisfying as soup. I take the turkey carcass, combine that with cold water and plenty of sliced garlic, and let that simmer until the meat basically falls apart. The bones collapse onto each other, and I have to fish them all out.
I add a ton of ginger and some short-grain rice and cook it until that's creamy and broken. It's not going to be cooked down like it's congee or jook, just some broken rice to give the soup some substance. I add some rounds of sweet potato, some turmeric, some dill and lemon juice. It's very much a rip-off of a soup I developed a few years back called Feel-Better Chicken and Rice Soup.
We all have the soup and then end up breaking into the ice cream with leftover pie. I swear by Häagen-Dazs. I grew up in a household where my father had a freezer dedicated to Häagen-Dazs ice cream, just one flavor: mango. Not sorbet, but ice cream. So very specific.
We watch You've Got Mail. It isn't my choice, but we want a movie where we don't even need to think. We want something easy, and let me tell you: You've Got Mail is very easy.
Saturday, November 26
Keith is worse than ever. He's hunching and moving around the house with a mask on, but he tests negative for COVID. We're boosted, we've had our flu shots. He just feels sick. I'm hoping I don't get it, and that nobody else gets it.
John and I get a bagel sandwich. For some reason, he only buys one sandwich for us to split, which is not the move. And look, it's not a great bagel sandwich. It's just not. There are plenty of great bagel places and plenty of great bagel sandwiches on Long Island. This is not one of them, but I don't think it was John's fault. We ordered an everything bagel with scallion cream cheese, onions, and — I'm going to get a lot of judgment for this — tomatoes. It is not summer, but for some reason, I like stupid-bad November tomatoes on my bagel sandwiches, almost like I want it to be watery and styrofoam-y.
But when we unwrap this sandwich, it's plain cream cheese — not scallion — with no onions, no tomatoes, and it has lettuce. It's leafy lettuce that's watery but is doing a very different thing than what a watery tomato would do.
I still can't understand why John got one bagel for us to split. Certainly I'm not watching my figure these days, and I was looking forward to the carbs.
We lay low today. It's the day before my birthday. I make some chamomile tea for Keith using chai masala from Diaspora. I'm starting to feel a little bit off, but I don't make too much of it. It's more of a scratch in my throat. Probably the cigarettes.
By the time it's the afternoon, I feel less fine, and this is when I start to sweat a little bit. I'm going down and there is no return. The whole weekend is now gone and I spend the rest of the day in bed. I can't even tell you about the rest of the day because I've become delirious. I think I eat a banana, and maybe a spoonful of manuka honey, and then look in the fridge and see a tin of caviar and wonder about that. I fall asleep around eight o'clock.
Sunday, November 27
In the morning, I see that Keith messaged me at 12:01 a.m. to say happy birthday and to say that even though we both don't feel well, we will celebrate another day. We'd had dinner reservations at Léon on Shelter Island. It opened this past summer and I've been a few times. I was excited to go back, but that will have to wait.
Instead, we go to CityMD, and of course it's packed. We wait about an hour and a half, and we find out that I have the flu and Keith has pneumonia. We are both sad, but back home I find that tin of caviar I had been eyeing. I think, At least I can have caviar on my birthday — why not? I make a very, very gentle scramble in butter with a big spoonful of caviar and some fried bread and that's it.